FROGUE
Organization Information
Founded

1892

Founder

Isembert Dump

Leaders(s)

Isembert Dump
Template:Rb
"Ferret fur is in - leather is out!"
Frogue Magazine, or simply FROGUE, is a Witch and Wizards fashion & current affairs magazine, lead by the frolicsome wizard Isembert Dump, an international celebrity.
The magazine seems to spotlight those of influence or flocking fame and has an antiquated style that would receive great scorn in the muggle world.
Location
The FROGUE headquarters are based in London, and are said to be "Beyond the Boy and Frog statue", in Queen Mary's garden.
Editors
The magazine is owned and edited by buoyant, pink-pantellete wearing wizard, Isembert Dump. As founder of the magazine, if true, this would make him exceptionally old.
Endorsements
The magazine endorses all manner of witch and wizards, Celebrity or Political. Philomena Pest, a Daily Prophet columnist was featured in both the Winter 2023 and Spring 2024 editions.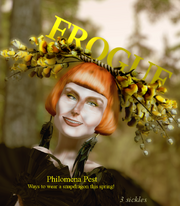 The Spring 2024 Edition
was released on the 7th of April 2024 and spotlighted a number of contemporary subjects, such as how to wear a yellow snapdragon to a funeral, how to murder the neighbours cat and wear it well, and hearsay on the upcoming potions olympics.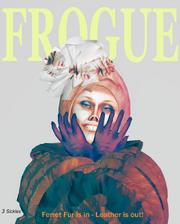 The Winter 2023 Edition, released on August 13th 2023, spotlighted the resurgence of ferret fur, and the slow cessation of fox fur & leather, alcoholism among celebrity body guards, and exclusive information on Philomena's upcoming tell-all book 'WarLOCKED out of Hogwarts' which later failed to reach publication due to unknown legal reasons.
Behind the scenes
Frogue Magazine was devised by ishwaristing Resident in the virtual world Second Life

® 

@ Mischief Managed, a devotional sim created by Anya Ohmai and voluntarily maintained by various creative Administrators and players. You can find out more information here: http://mischiefmanagedsl.net
The magazine was founded the same year as the Muggle Vogue magazine. This could denote a connection to the Muggle worlds Vogue, or suggests another cheap imitation at Muggle culture.
All members of Mischief Managed are encouraged and welcome to use the FROGUE logo in their continuous character stories, but should inform the roleplay department of any major storylines involving its use.